Well this is exciting, we have been anxiously waiting for the work to begin on the new Wheadon Farm Park in Draper, Utah for several years now. Yesterday, I stopped the car and pointed out the 64 acre park and the work that had begun to my children. The Park will provide recreational opportunities to the community with sport fields and courts, walking and biking trails that will connect to a already extensive network of trails and biking paths. Draper, Utah has become a bit of a biker destination. It is easy to see why after spending some time riding or walking these trails.
The Park will also have a Urban Garden area, I love this idea and think more communities should incorporate gardening and teaching urban farming to our youth. With the addition of Wheadon Farm Park, Draper will continue to attract new home buyer's while offering the quality of life Draper residents have come to appreciate. Parks and recreation seem to be at the top of most home buyer's lists and selling property in Draper just became a little easier. :)
additional information and history about Wheadon Farm can be found at SLCO Wheadon Farm Park and shared below:
Wheadon Farm Park Master Plan
The Gene and Deane Wheadon Farm has been a working farm from the early 1900's until 1997 when a conservation easement was placed on the property by the Wheadon family. This easement is held by the Utah Open Lands Conservation Association, Inc.
In 2008, Salt Lake County purchased the 64 acre farm with park bond money to provide public use of the land in a manner that enhances the conservation values and allows the development of a public park with features in keeping with the conservation easement. Planning and development of this valuable park land is guided by a conservation easement created by the Wheadon family, Utah Open Lands Conservation Association, and adopted by Salt Lake County. This legal document protects the land from inappropriate development and identifies the permitted uses and activities that can occur on the property.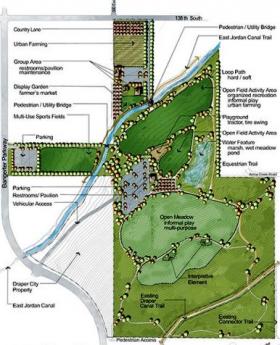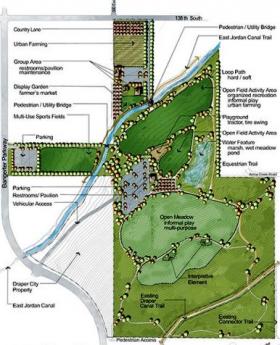 by Bob Nelson
Salt Lake County officials broke ground Wednesday on Phase 1 of the 64-acre Wheadon Farm Park in Draper. The farm at 138th South and Bangerter Parkway, was purchased from Utah Open Lands by the county with funds from the $47-million dollar Park Bond approved by voters in 2012. Wendy Fisher is the Executive Director of Utah Open Lands. She says in 1997 Gene and Deane Wheadon donated the land because they shared a vision of the importance of open space.
"It is a huge driver in terms of our quality of life and in terms of the reasons that people want to live in these various different communities,' says Fisher. 'And certainly Gene Wheadon was one of those individuals who felt that his farm land, his open space, made the community a better place."
An on-site urban farming program will be part of the park experience. Activities will include education on the history of the Wheadon Farm, dating back to the early 1900's. Salt Lake County Mayor Ben McAdams was among those at the groundbreaking ceremony. He says the county recognizes the need for economic development because it provides jobs for future residents. read more here
More parks, more recreation and more fun, Draper, Utah continues to provide all
Search for a Draper Utah home near you