2017-09-05 13:35:09
BE OUR GUEST
Along With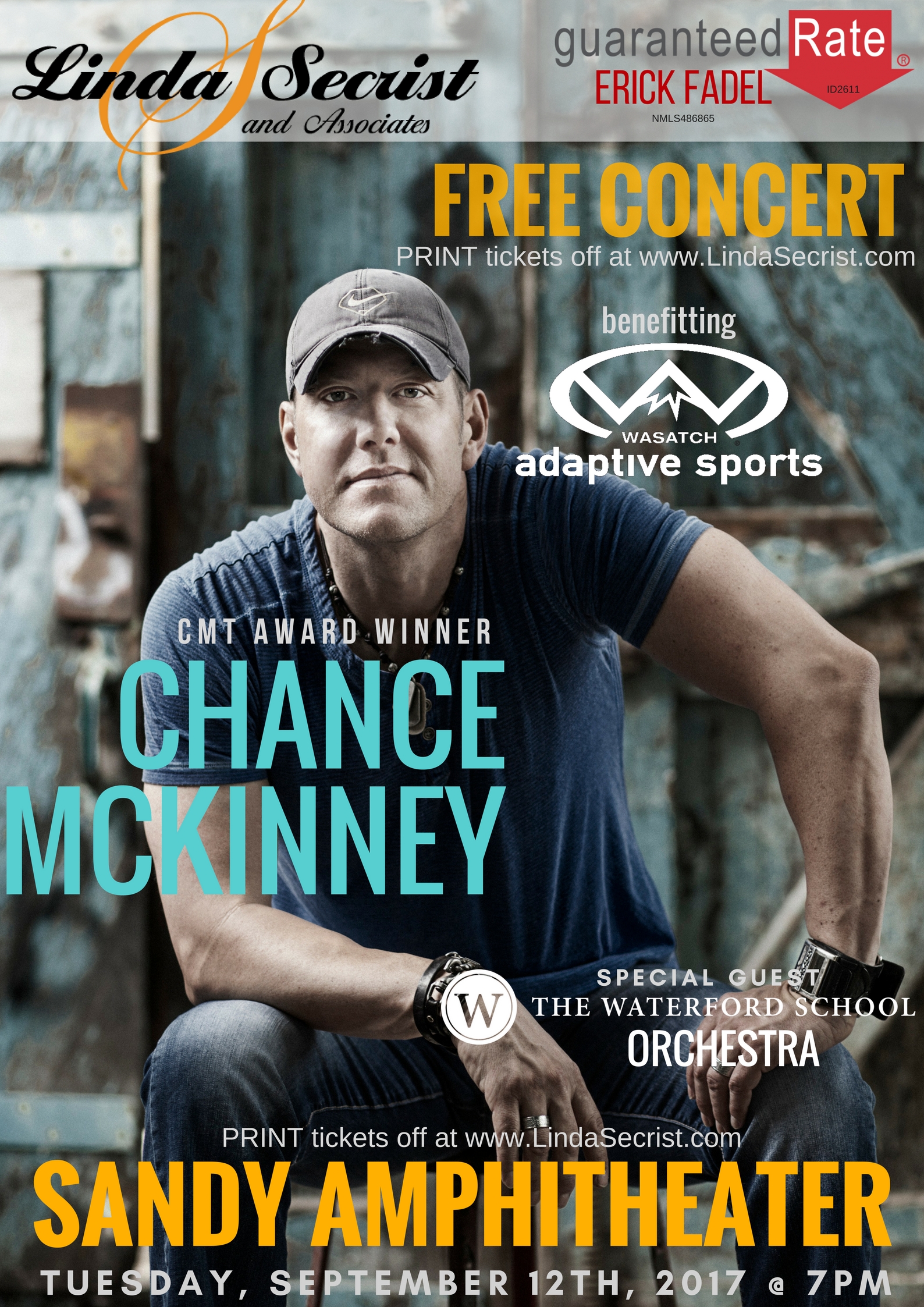 BEFORE CHANCE MCKINNEY was a CMT Award Winner, before he was a million vote getter in Music City Madness, before he was on tour dates with Blake Shelton, Luke Bryan, Dierks Bentley, Darius Rucker, Kenny Rogers, Lynyrd Skynyrd, Dwight Yoakam & Trace Adkins.....Chance McKinney was your run-of-the-mill All-American javelin thrower, all-black Motown Revue singer, college track coach and high school math teacher. The all-too-common tale of 'teacher goes signer' is something we've all heard before. Everybody knows if you release an album, two weeks later you'll find yourself opening for Kenny Chesney in your first country show. Everybody knows if you enter a contest for the #1 'unsigned' singer/songwriter in the Nation that you'll win with more than one million votes for your self-penned tune 'Be Real.' And then the obvious, release a follow-up album after 3 years of touring and debut at #62 pm iTunes Country Album Charts. It's all commonplace, so we won't bore you with the details.
WASATCH ADAPTIVE SPORTS (WAS) was founded in 1977 as he first nonprofit organization to provide year-round adaptive recreational programming along the Wasatch Front. Today, WAS continues to create local and affordable recreational opportunities in order to promote independence and active living for adults, children, and veterans with adaptive needs. The nonprofit accomplishes this by providing private and group lessons in a wide range of sports including skiing, snowboarding, and snowshoeing in the winter and cycling, mountian biking, kayaking, and paddle boarding in the summer, among other activities.

#mcm #wcw #utahhomesforsale #openhouse #homebuying #utahluxuryhomes #buyahome #homebuyer #utahrealestate #utahrealtor #no1realestateagent #homesforsaleinutah #bestrealtor #skiutah #utahlistings #mlslistings

Subscribe to RSS Feed
Blog Archive
2019-04-18 12:23:48
MEET 'THE SECRIST TEAM'
2019-04-16 13:29:54
Salt Lake City- A Leader in Solar Energy
2019-04-11 10:15:19
SPRINGTIME LUXURY OPEN HOUSE EVENT
2019-04-09 12:33:51
Tips for Reviving Your Lawn After Winter  
2019-04-04 09:54:55
'HELLO APRIL' OPEN HOUSE TOURS, Saturday, April 6, 2019
2019-04-02 12:21:35
3 Utah Cities in Top 15 for Work-Life Balance
2019-03-27 15:03:19
THESE LUXURY HOME TOURS ARE A 'SLAM DUNK!'
2019-03-26 12:29:45
Come Thrive In The Silicon Slopes   
2019-03-22 11:29:51
THESE LUXURY HOME TOURS ARE A 'SLAM DUNK!'
2019-03-19 11:26:17
UTAH- #2 BEST STATE TO START A BUSINESS
2019-03-14 09:40:23
THE 1st SIGN OF SPRING IS GREEN
2019-03-12 10:07:15
6 Home Upgrades Under $1,000
2019-03-07 15:01:48
IS IT SPRING YET?
2019-03-05 10:23:21
Salt Lake Among Top U.S. Capital Cities to Live In
2019-02-28 11:47:42
New Homes on Tour, March 2, 2019
2019-02-25 12:45:27
2019 DEER VALLEY MUSIC FESTIVAL SCHEDULE
2019-02-21 12:30:46
Luxury Open House Tours, Saturday, February 23, 2019
2019-02-19 11:43:45
37 Things to Do in Salt Lake City, Utah
2019-02-13 15:24:54
These New Homes Are Selling Fast!
2019-02-11 15:54:25
Snowbasin to Join Multi-Resort Epic Pass
2019-02-07 10:39:25
BRAND NEW HOMES STARTING AT $388,000? YOU'VE GOT TO BE KIDDING!
2019-02-05 09:30:55
5 Facts About Selling a Home in the Winter
2019-01-30 10:46:59
'SWEET' SANDY HOMES FOR SALE
2019-01-28 15:24:48
Sundance for the Casual Festival Goer
2019-01-24 12:16:09
Hot Homes On A Cold Day!
Click here to see ALL articles.