We left the Salt Lake Valley and traveled to Hanksville, UT stopping for fuel and ice before continuing another 56 miles to what was once a boat launching marina on Lake Powell. With lowered water, Hite Marina is somewhat of a ghost town. The store had a sign that said it was open daily, 9-5. The ramp is high and dry and no Lake can be seen. There is No cell phone service for miles, which can be a good thing and was a priority in choosing this location in the first place. :) We continued another 13 miles to Blue Notch Rd, road 206A on google maps. I haven't spent any time in this area and another reason for it being chosen. Google maps was my best friend for several weeks while planning our adventures. We had 3 days, I wanted somewhere we've never been and my son wanted lake Powell. HWY 95 seemed to fit our goals. I had scanned the area and knew exactly where to go. The only campsite accessible towing a trailer was found 1/2 mile from the Blue Notch and HWY 95 intersection.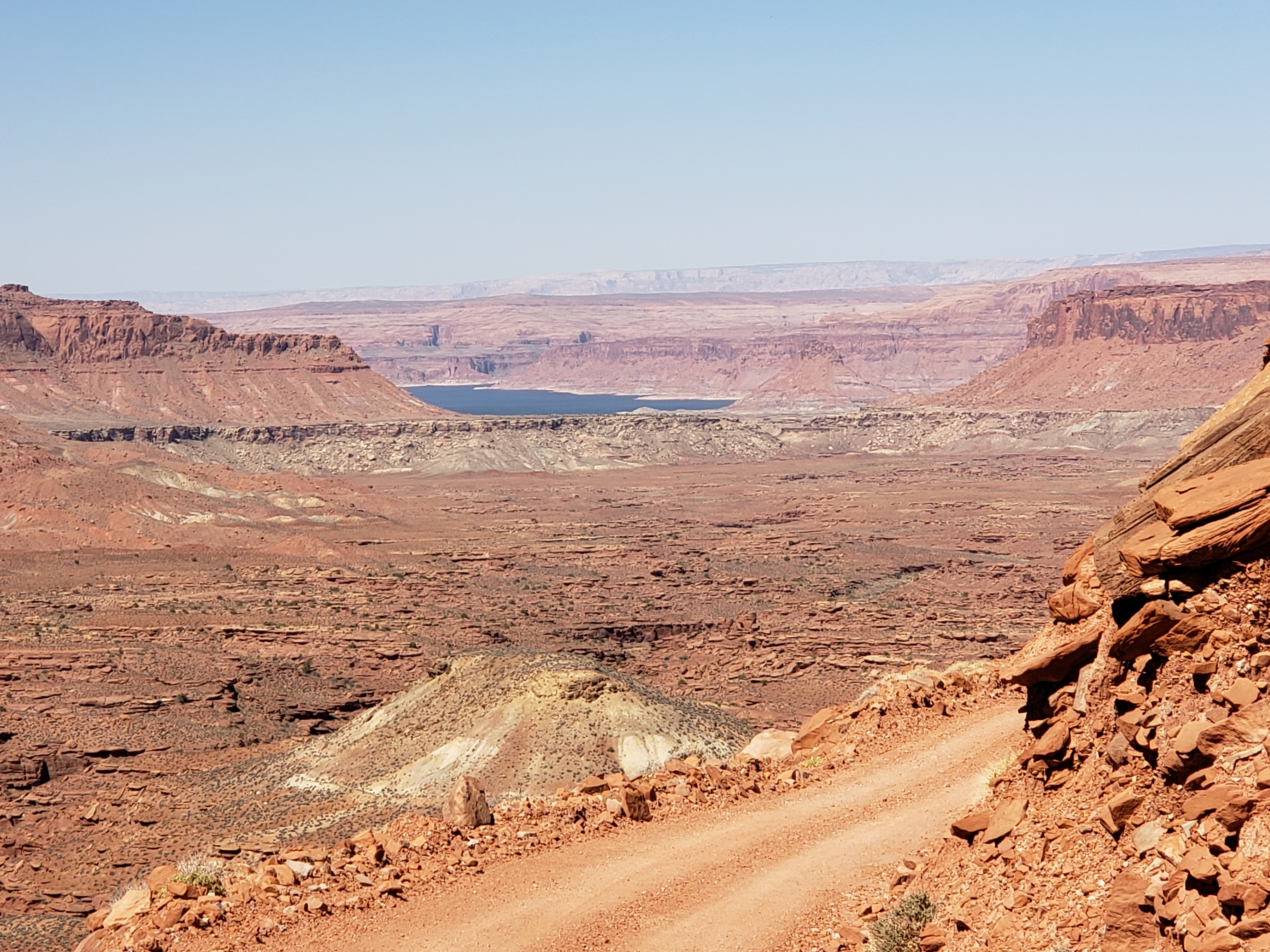 This worked out perfectly, we set up camp and the next morning loaded the Polaris RZR with supplies and ventured the 13 miles on a easy 4 wheel drive road to the shores of Good Hope Bay on Lake Powell.
This is the view before driving another 11 miles to the shores of Lake Powell. It was an easy road and took us 45 minutes from camp. It was HOT and we couldn't wait for a swim. The road is easy to follow until you get close to the Lake. It took us several attempts on existing roads before we found direct access to water.
We didn't do the ride, but it is possible to follow Red Canyon to HWY 276 and back to 95. Im sure it would take most of a day and would be a beautiful drive. We elected to spend the day Kayaking, Bass Fishing and soaking up some sunshine while staying cool near the water. There are numerous side roads and additional riding into Bears Ears on the other side of Hwy 95. Like I said earlier in this post. Google maps is great, but dont plan on having data in the area, print off any maps or save for viewing off line.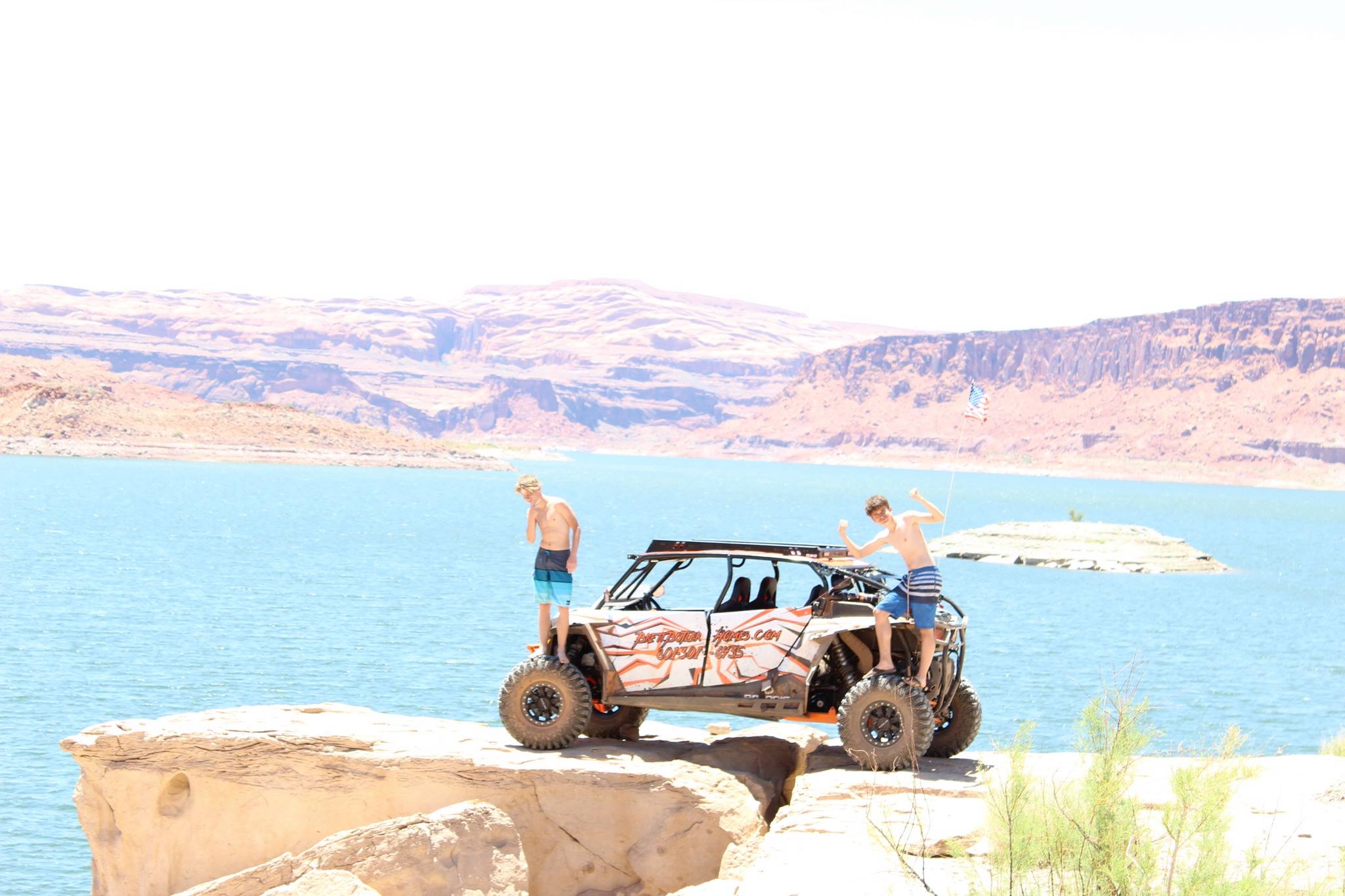 We returned to camp sunburnt and prepared for our Journey the next day. Ive always enjoyed hiking Slot Canyons and The Black Hole of White Canyon has been on my Bucket list for years.
DAY#2 HIKING THE BLACK HOLE OF WHITE CANYON, UTAH
White Canyon begins approximately 30 miles North East near Natural Bridges National Monument and provides drainage for a large area of Cedar Mesa before emptying into Lake Powell. Do not enter this Canyon if any rain is in the forecast. Evidence of massive flash floods could be seen throughout this section. The Black Hole is best hiked by entering the Canyon at the only dirt parking area just before mile marker 57 on HWY 95, Leave a shuttle vehicle at mile marker 54.6 if possible, you'll be thankful after climbing the steep exit you are not walking the additional 2.5 miles back to the entrance.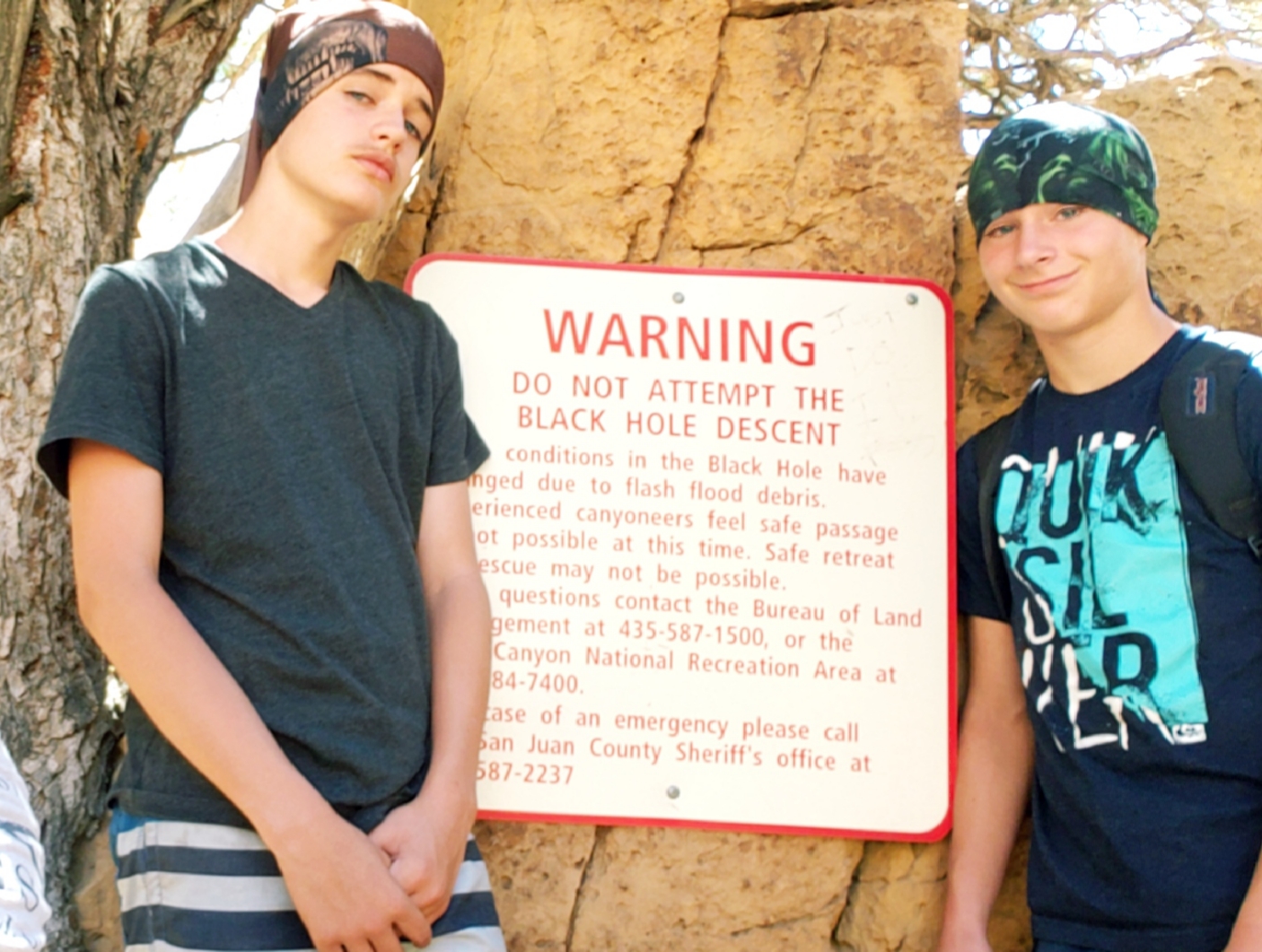 The trail to the entrance is easy to follow from the parking lot, head north for about 500 yes and you'll come to the warning sign. This is a strenuous trek with rope required, some swimming through cold water and a very steep exit. Worth the effort as this is one of those life changing hikes that test your senses and ability. You'll reach the bottom of the canyon and you'll want to stay left. From here, there is only one way for the next 5 miles or so. You'll encounter numerous swimming holes and obstacles before reaching the Black Hole, it was about a 12 Ft plunge and would be difficult to turn around at this point. Just get after it, the water is cold so don't waste time. SWIM until you hit a dry area. You'll have several more water filled sections before finally reaching the last pool. You'll know its the last swim because this pool is filled with logs and debris. After exiting this pool continue another 1/2 mile or so and you will see another small slot on the left. This is not the easiest exit. Continue another 500 yards or so and look for the stacked rock cairns on the left, It doesn't look like an easy climb and it isn't. Follow the rock cairns through the switchbacks and you'll eventually reach the top within sight of Hwy 95 and hopefully close to your shuttle vehicle and waiting iced water.
Watch the video above for the condensed version of our hike. This Slot is amazing but very isolated and any rescue will more likely end up being a recovery. Please use caution, take extra rope and water. A life jacket was nice to help float your pack through the swimming holes and bring a camera, the Slot is one of the best for scenery Ive ever hiked. Feel free to contact me if you have any questions I can help answer.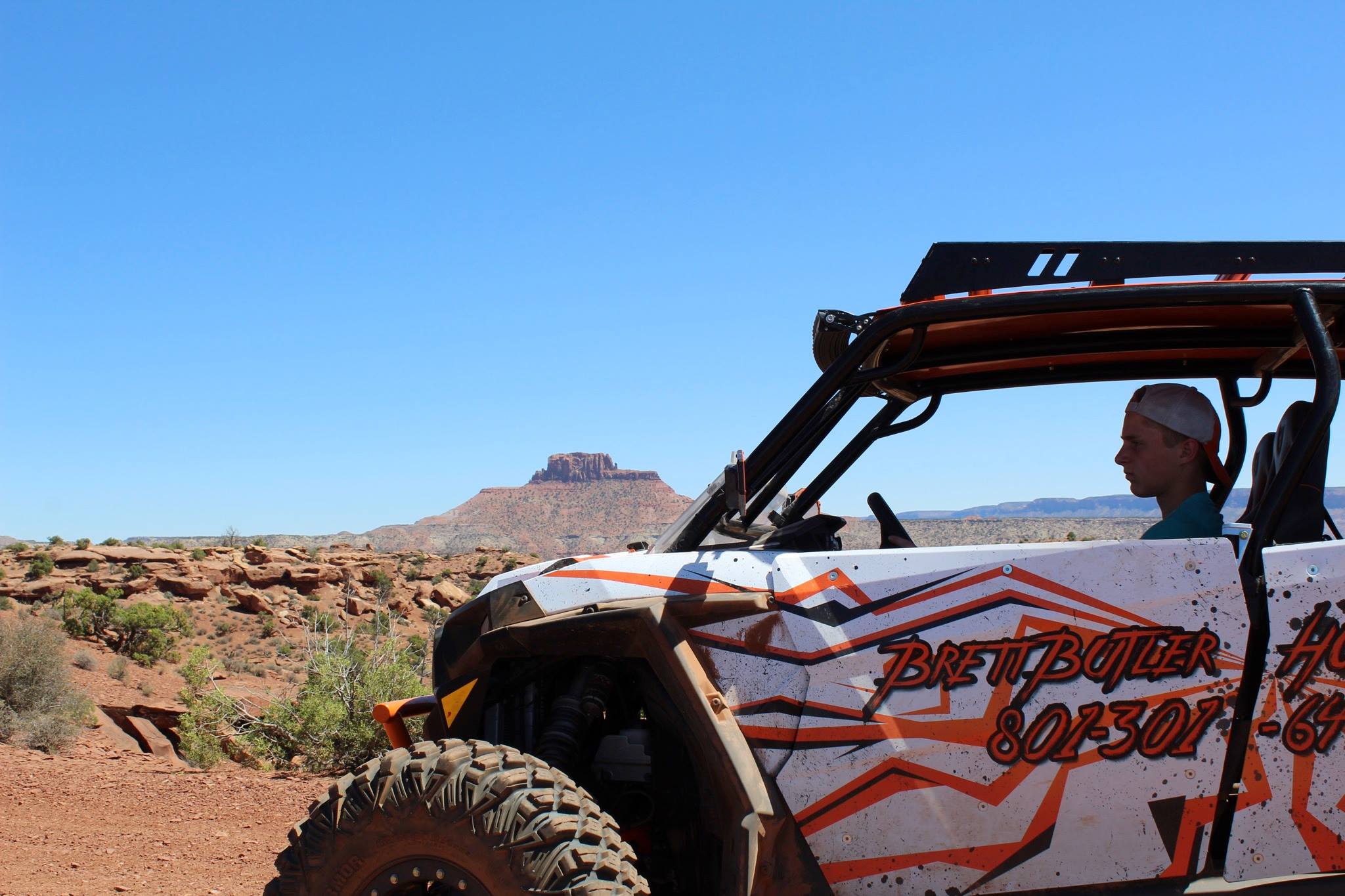 Day #3 - RZR riding Jacobs Chair, Bears Ears and a Visit to Natural Bridges
We were all sore and stiff after the previous days adventure and decided we would explore side roads through the foothills of Bears Ears in the RZR. You could spend multiple days riding the miles of 4 x 4 roads and trails between Blue Notch and Fry Canyon, an old, shut down (2007) lodge and store and the only building off Hwy 95 between Hanksville and Blanding, UT.
The area has been recognized as one of just a few 'Dark Sky' locations in the lower 48. The night skies are amazing. Anyways, we took road 208A at about mile marker 60 there is a very noticeable gray gravel parking area on right hand side. Drive through parking and you find a sandy wash that drives under the highway gaining access to some Beautiful Country including the formation known as Jacobs Chair (above)
We could see the landmark 'Bears Ears' in the distance and
took a few side trails between Jacobs Chair and Fry Canyon. Lots of choices and we traveled many miles without spotting another vehicle. It would make me feel better to have another RZR riding with us. Several times I heard a rattle or clank coming from my machine and thought, I'll die in this heat walking for help. I do advise the buddy system and always carry extra water.
As a side note: if you want a Slot Canyon experience without an all day trek, just a few hundred yards from the closed Fry Canyon store on HWY 95 traveling towards Blanding you cross a bridge, pull off the side of the road and follow this narrow slot until you gain access to the canyon below. We found a swimming hole and some very tight narrows without much hiking. Enter and exit on either side of highway. Takes less than 45 minutes and is a very cool slot canyon experience, especially if you haven't spent much time in Slots :)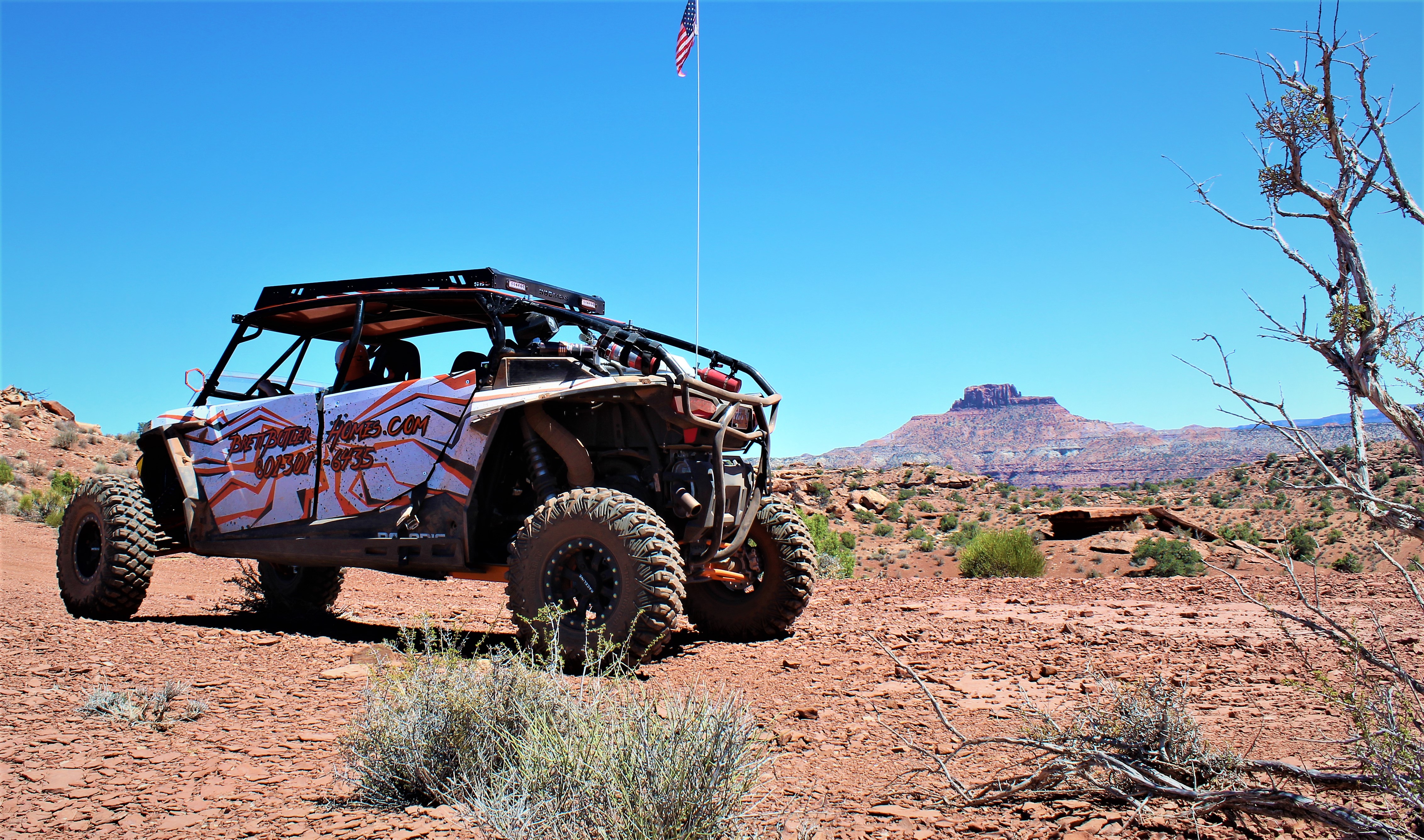 We had plans to continue into Natural Bridges on the RZR but
used most our fuel and the boys were exhausted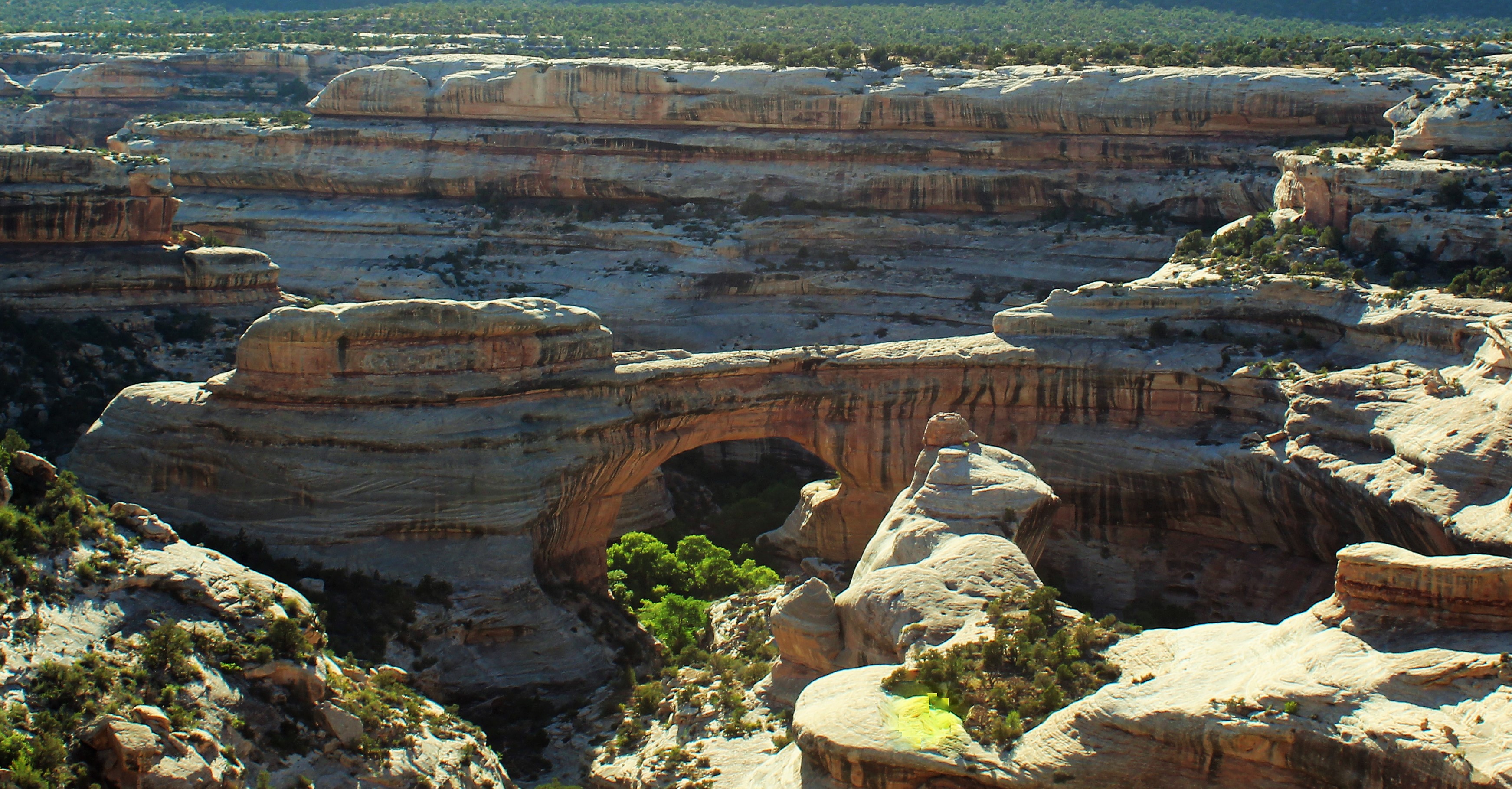 so we headed back to camp. This was a good decision. That evening we took a drive to Natural Bridges in the truck. The Ranger informed us, that like Arches and Canyonlands, Street legal UTV's are not allowed on Park roads. Irritating for us. I can see restrictions in high traffic Arches, but this Park had no issues with too many visitors.
We also toured through Valley of the Gods. Not that impressive, the pics you find online are much more spectacular. My next trip, Ill stick to the Mesa .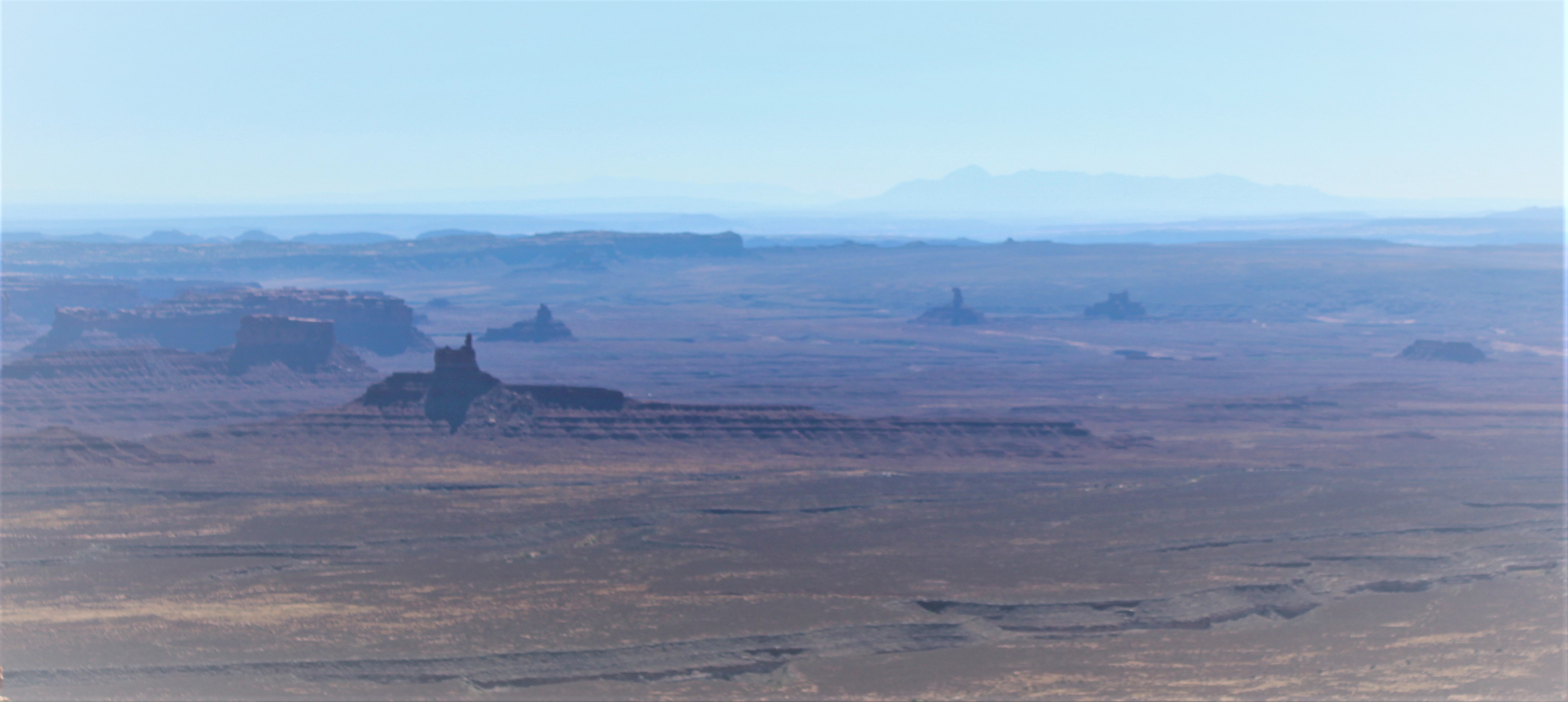 This was a great trip for me as far as scenery and the Slot Canyon hikes went. The RZR riding is exceptional with scenic routes in every direction. Not technical at all but the desolate location and so far from services should be a concern when riding alone. Carry extra fuel. I will definitely be back to explore this area in greater detail.
Thanks for reading my blog and feel free to reach out anytime for both fun :) or help with Utah Real Estate
801-301-6435
Brett@LindaSecrist.Com