This morning was the monthly PRUDENTIAL UTAH REAL ESTATE home tour. This event took the place of our weekly REAL ESTATE sales meeting. My Real Estate Broker, Annalysha Hedberg, I know it's a mouth full, 'Annie' for short has done a amazing job of getting Realtors together, I absolutely love getting to know the Real Estate Agents in my office. The Team has always been a important part of every job I have ever worked in until I started my career in Real Estate. I know Real Estate is a competitive business and the camaraderie will not be the same as in other industries. I do know we can benefit from supporting one another and Annie has done a wonderful job of bringing the Agents of Prudential Real Estate Union Park together. Thank-you Annie. I also want to thank Ross Anthony and Jodie Miller, the help and support you give to the Agents of Prudential Real Estate is noticed and appreciated. Enough Love, let's get back to the home tour!
We started the Home tour with a fabulous Luxury Estate in South Jordan. This home located at 1763 W. Rylie Ann Cir, South Jordan, Utah is actually one nicest Properties I have seen in South Jordan. The home is listed by Real Estate Agent Gale Fradsen. The home is over 8000 sq ft on a very private 3 acres. I personally loved the swimming pool and private water slide. The home also has commercial potential with the current owner using access from Redwood Rd to run a business from a separate building on the property. We then traveled to Draper, Utah 7 miles South and viewed a wonderful Draper Home for Sale. This home in Draper listed by Utah Cribs is in fabulous family oriented subdivision. The home is nearly 3500 sq ft with new Kitchen Remodel including appliances, new paint and carpet. This Draper home is located at 654 E. Golden Pheasant Dr. Draper, Utah and within 2 blocks of the new Draper High School. The tour headed to a Luxury Home in Cottonwood Heights in one of the areas most prestgious subdivisions. This Luxurious Property is incredibly clean and well cared for. The home was built in 1997 but felt much newer. The home has wonderful curb appeal and a must see for anyone considering a Luxury Home in Cottonwood Heights. 2667 E. Grand Vista Way. Cottonwood Heights, Ut is the address and the deluxe updated chefs kitchen and very private and cosy backyard were my favorite features. This home is listed by Prudential Real Estate agent Devi Day. I met Devi for the first time today after years of seeing her name in print. Yay! Next stop was not far as we visited a very charming and recently updated Cottonwood Heights 2-story home located in a great Cottonwood Heights PUD. This Home for sale has amazing views from the 3 decks, Loved the floor plan and one of the best priced homes on tour today. This one won't last long at the current price. I have a client I want to show this property too, so dont wait long, contact listing agent Jillinda Bower's for details and current status.
Last Stop.... Holladay Luxury Homes- Holladay Real Estate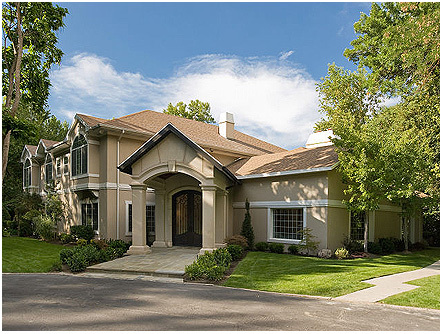 We ended the tour with three Luxury Homes in Holladay. These fabulous estates all located on Holladay, Utah's Walker Lane offer very unique and different styles even though the homes are just a few parcels from each other. The Holladay Luxury Homes listed by Linda Secrist are a must see for anyone looking at Holladay Luxury Estates.
The first home located at 2083 E. Walker Lane Holladay, Utah A Charming French Country Cottage with incredible character that has been a labor of love to create. Stucco exterior with turret, 4 car garage, antique mantle; lights door and transoms with custom stained glass. High end appliances and granite. Full basement with room to grow. Hidden artists studio, creek, rock paths, mature trees, barn, stalls and sheds. A true Thomas Kinkade setting - WOW!
This next home at 2480 E. Walker LN. Holladay, UT is a favorite of mine because of the history The original Walker Lane Mansion This stunning European Tudor rises high above the lush trees and water to set the stage as the original Walker Lane Estate. This magnificent old mansion is so historic and beautiful. Salt Lakes first swimming pool and world renowned grape arbor. A second cottage is a two bedroom, one bath on rear with separate entrance.
The last stop on this tour was by far the most exquisite property and location of the day. The only thing lacking was enough swimming suits for all the Agents to take a lunch time swim. The home at 2457 E. Walker Lane. Holladay, UT has three acres of Salt Lakes finest, pristine property, gated and lush with mature trees, 2 creeks, a waterfall and it's very own well. Totally updated and remodeled. Open with massive vaults. Elegant great room, theater, recreational center with mother-in-law attached with 2 bedrooms. Sports court, playground, pool with outdoor bathroom. Outdoor kitchen, decks, gazebo and art studio. This property is a park like paradise.
Take the Online Tour of this LUXURY HOLLADAY HOME
Anyways, It was quite a day and a benefit to us and our clients. I hope to see more of you and your Real Estate Listings on Tour next month!
BRETT BUTLER - LINDA SECRIST & ASSOCIATES - EVERYTHING THEY TOUCH TURNS TO SOLD!

www.lindasecrist.com
www.utahopenhouses.blogspot.com
FOLLOW US ON FACEBOOK

Salt Lake City real estate, SLC real estate, Salt Lake City homes for sale, SLC homes for sale, SLC Realtor, Salt Lake City Realtor, Holladay luxury homes for sale, Holladay luxury estates, Holladay homes for sale, Holladay Realtor, Cottonwood luxury estates, Cottonwoods Realtor, Walker Lane, Cottonwood Lane, Sandy real estate, Sandy Realtor, Draper real estate, Draper Realtor, Sandy homes for sale, Draper homes for sale, Murray real estate, Murray homes for sale, Murray Realtor, South Jordan real estate, South Jordan homes for sale, South Jordan Realtor, West Jordan real estate, West Jordan homes for sale, West Jordan Realtor, Riverton real estate, Riverton homes for sale, Riverton Realtor, Herriman real estate, Herriman homes for sale, Herriman Realtor, Utah real estate, Utah homes for sale, Utah Realtor, Bountiful real estate, Bountiful homes for sale, Bountiful Realtor, Davis County real estate, Davis County Realtor, Park City real estate, Park City homes for sale, Park City luxury homes for sale, Park City luxury estates, Park City ski homes, Park City retreat homes, Park City Realtor, Alpine real estate, Alpine homes for sale, Alpine Realtor, Highland real estate, Highland homes for sale, Highland Realtor, Farmington real estate, Farmington homes for sale, Farmington Realtor